Ionix Static Eliminator in your electronic assembly blowoff line for extra ESD safety
The benefits of using an Ionix Static Eliminators in your PCB electronic assembly cleanoff air line:
Highly effective - increases the effectiveness of ANY compressed air line by eliminating the static created by compressed air moving over a surface that holds dust to the surface.
Safe to use - No nuclear material or high voltages to worry about.
Easy to install at any location - Just insert in any air hose and installation is complete.
Versatile - Ionix is used in hand blowoff as well as in automated blowoff lines.
How Ionix Static Eliminator can solve your PCB ESD clean up problems
Air is usually an electrical insulator. When you blow compressed air over a surface, the friction of the air creates an electrostatic charge on that surface which can potentially damage your sensitive components in spite of all your ESD precautions.

By installing an Ionix Static Eliminators in each blow off line, Ionix makes the passing air electrically conductive so the passing clean off air does not generate a static charge in the surface being cleaned off.

How to maintain the Ionix Static Suppression system
Ionix Static Eliminators wear out over time with the passage of air through them. Generally they need to be replaced once a year. You remove the old Ionix and replace it with a new unit. There is no electrical or other connections other than installing Ionix in the air hose line.

Which Ionix Static Eliminator model should I order for my PCB ESD blowoff line?
The Ionix model you need depends on the pressure you blow off the surface.

All PL300 and HPPL 300 are designed to be installed on 3/8" ID air hoses.




Ionix Static Eliminator PL300 for blow off lines under 50 psi.
Individual PL 300-2 For air hoses up to 50 psi.
(Click on the underlined model to be directed to our secure Yahoo store to order)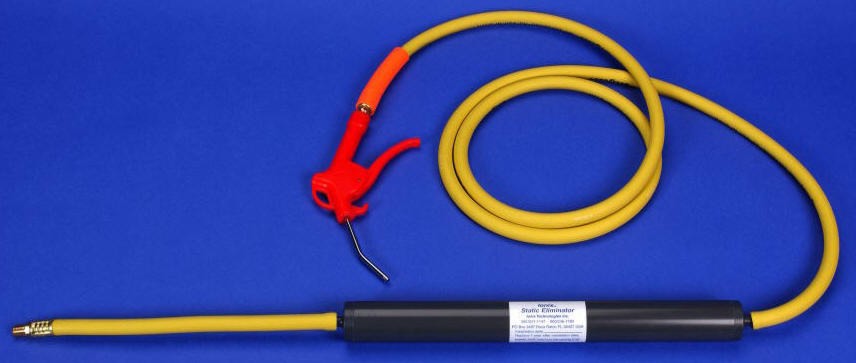 Ionix Static Eliminator PL300 Kit for blowing off electronic assembled circuit boards under 50 psi without high voltages or nuclear materials.
PL300-2 Kit for air hoses up to 50 psi. Kit includes PL300-2, 25' air hose with threaded nipple ends, air gun and 2 hose clamps.
(Click on the underlined model to be directed to our secure Yahoo store to order)


Ionix Static Eliminator HPPL300 Individual HPPL 300-2 for air hoses over 50 psi up to 150 psi.
(Click on the underlined model to be directed to our secure Yahoo store to order)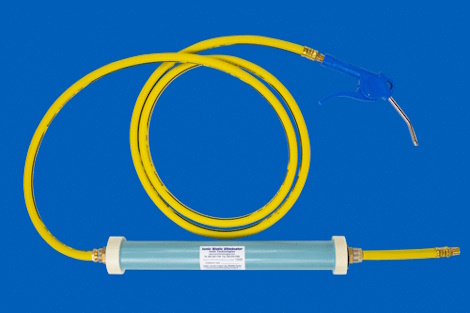 Ionix Static Eliminator HPPL300-2 Kit for air hoses over 50 psi up to 150 psi. Kit includes HPPL300-2, 25' air hose with threaded nipple ends, air gun and 2 hose clamps.
(Click on the underlined model to be directed to our secure Yahoo store to order)
Guarantee

Our goal is to solve your static problem to your satisfaction.

Ionix is sold with an unconditional 30 day guarantee. You can return your Ionix within 30 days for any reason. Test our unit in your application for 30 days. If you are unsatisfied for any reason return it for a full refund. We warrant our product to be free of defects for 6 months after installation.

How to get started

Call Ionix at 800-246-1784 and we'll be glad to review your particular problem and determine if an Ionix Static Eliminator will solve your static issue. You can also order a PL300-2 or HPPL300-2 at our on line store www.TheIonixStore.com.

Ionix Static Eliminators are not certified for clean room environments.

Ionix Static Eliminators are made in the USA with 100% USA made components.

How to Order - Call Ionix at 800-246-1784 to order by phone

Go to our secure Yahoo! hosted online store - www.TheIonixStore.com